Boston Marathon 2014 Live Blog
Throughout Marathon Monday, we'll update you with the latest news in this year's race.
5 p.m.
As thousands of runners finish the race, keep an eye out for special teams making the journey in honor of last year's victims. Team MR8 is running honor of Martin Richard; a BU team is running for Lu Lingzi; Run for Krystle is running for Krystle Campbell; and MIT Strong is running for Sean Collier.
Bonus: Here's video of one MR8 runner twerking at the finish line.
5 p.m.
Team Hoyt finished what they say will be there final Boston Marathon with a time of 7:37:33.
4:15 p.m.
Team Hoyt, comprising the famed father-son duo of Dick and Rick Hoyt, are running this year's Boston Marathon. They announced earlier that this will be their last. Here they are passing through Newton:
3:25 p.m.
OK, Blockheads, here are your NKOTB marathon finish times: Joey McIntyre finished in 3:48:11, and Danny Wood finished in an earlier wave in 3:50:00.
Keep an eye out for Donnie Wahlberg, who is there cheering for his bandmates and for brother Jim Wahlberg (who is currently making his way through Brookline).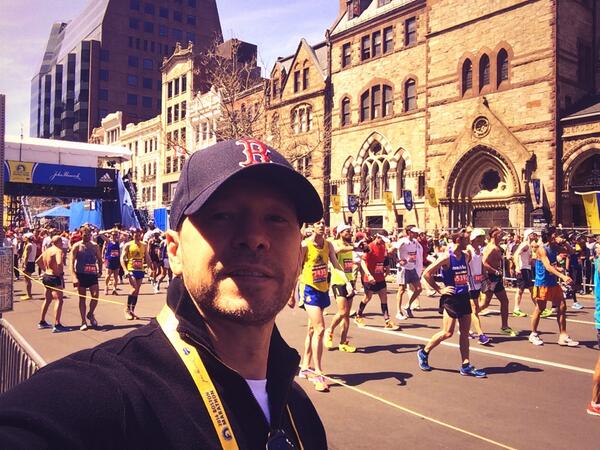 Want to compare your (or your friend's) finish time to more big names? Check out these celeb finish times by Will Ferrell, Lance Armstrong, and more.
3:05 p.m.
New Kids on the Block fans at the finish, keep an eye out Joey McIntyre, who's on track to cross the finish line in just a few minutes. (He'd like some chocolate milk, please.)